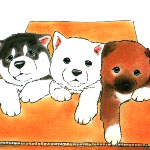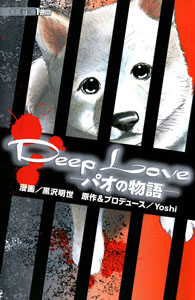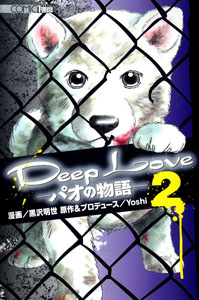 Back to Completed projects
Deep Love: Pao's Tale
(Deep Love Pao no Monogatari)
「DeepLove パオの物語」
by Kurosawa Akiyo & Yoshi [黒沢明世 & Yoshi]


Publisher: Kodansha
Genre: drama, tragedy
Length: 2 volumes
Status: Completed
A RebelliousArt project.

Being abandoned by his owners, having his mother die of starvation, a puppy who suffered lifelong separation from his siblings wandered around the city. Meeting and parting with kind people, experiencing brutal treatment from unjust people. Pao, who learned to live within the harshness of reality, awaits even more ordeals...
Releases:
You must log in to download releases.
[2006-07-29]

Volume 01 Chapter 001 Ver2 (Mother And Child)

[2006-07-29]

Volume 01 Chapter 002 (Family)

[2007-12-10]

Volume 01 Chapter 003 (Setting Off)

[2007-12-12]

Volume 01 Chapter 004 (Life And Death)

[2007-12-13]

Volume 01 Chapter 005 (Heartbeat)

[2007-12-14]

Volume 01 Chapter 006 (Hope)

[2008-08-27]

Volume 02 Chapter 007

[2008-09-10]

Volume 02 Chapter 008

[2009-01-06]

Volume 02 Chapter 009

[2009-03-21]

Volume 02 Chapter 010

[2009-10-12]

Volume 02 Chapter 011