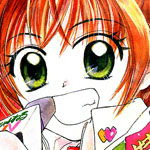 Back to Dropped projects
Channel Wonder
(Channeru wandaa)
「ちゃんねるワンダー」
by Enue Kei [えぬえけい]


Publisher: Kodansha
Genre: Shoujo
Length: 1 volume
Status: Dropped
Kisaragi Arisu has wanted to be an idol for a long time. When she blew her last chance, a guy ran into her and dropped his watch. She tries to find him, but finds herself in Channel W director's office instead. The director told her he needed a girl to do a report on his show. She readily took the job, thinking that this was a debut she was looking for. Will this be her big break?

Dropped due to a lack of scans.
Releases:
You must log in to download releases.
| | |
| --- | --- |
| [2003-06-10] | Volume 01 Chapter 000 (Prologue) |