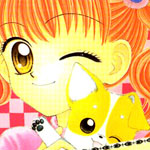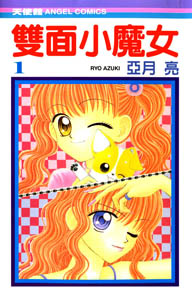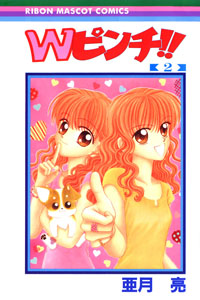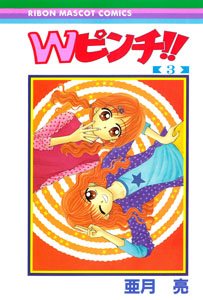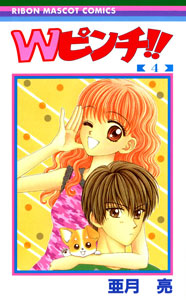 Back to Completed projects
W Pinch!!
(W Pinchi!!)
「Wピンチ!!」
by Azuki Ryou [亜月亮]


Publisher: Unknown
Genre: Shoujo
Length: 4 volumes
Status: Completed
Joint: Da Gurlz Translationz

Kawai Arisa is a timid girl with a split personality. She used to be a super bully and commanded her army of "servants" to do things for her. Due to a freak accident, she has forgotten all her memories and turned into a crybaby who never sticks up for herself. Then, a new student shows up to seek revenge against her which makes Arisa revert to her former self.
Releases:
You must log in to download releases.
Volume 01 Chapter 001

Volume 01 Chapter 002

Volume 01 Chapter 003

Volume 01 Chapter 004

Volume 01 Special (Arisa's Memory)

[2005-07-13]

Volume 02 Chapter 005

[2005-09-11]

Volume 02 Chapter 006

[2005-11-24]

Volume 02 Chapter 007

[2006-01-29]

Volume 02 Chapter 008

[2006-09-02]

Volume 02 Chapter 009

[2007-05-24]

Volume 02 Extra (The Dog That Wears Underpants & Julie ~secret Love Sign~)

[2007-11-24]

Volume 03 Chapter 010

[2008-12-10]

Volume 03 Chapter 011

[2009-04-22]

Volume 03 Chapter 012

[2009-09-03]

Volume 03 Chapter 013

[2009-12-11]

Volume 03 Chapter 014

[2009-12-11]

Volume 03 Extra (The Big Year-End Athletic Meet)

[2009-12-26]

Volume 04 Chapter 015

[2009-12-26]

Volume 04 Chapter 016

[2009-12-26]

Volume 04 Chapter 017

[2009-12-26]

Volume 04 Extra01 (The Inogami Family)

[2009-12-26]

Volume 04 Extra02 (I've Got To Go To School!)

[2009-12-26]

Volume 04 Extra03 (Dreadful Homework)

[2009-12-26]

Volume 04 Extra04 (Friend Diary)

[2009-12-26]

Volume 04 Extra05 (Project X)