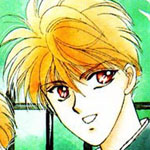 Back to Licensed projects
Rasen no Kakera
(Fragments of a Spiral)
「螺旋のかけら」
by Tachibana Kaimu [橘皆無]


Publisher: Shinshokan Publishing
Genre: shounen, fantasy
Length: 10 volumes
Status: Licensed
Licensed. This was a ShounenArt project.

From CMX:
Sakuya and Wakyo are reincarnated and reunited only to discover that Bishu-sama - their master and mentor from a past existence - is in their midst and in grave danger from vengeful demons! Still unsure of their own powers and the nature of their cunning and elusive enemy, they must race against time to rescue Bishu from the dark forces that roil within his reincarnated form.
Releases:
You must log in to download releases.
| | |
| --- | --- |
| [2003-07-22] | Volume 01 Chapter 003 (The Mirror Inside The Mirror) |
| [2003-10-05] | Volume 01 Chapter 004 (Fragment Of A Spiral) |