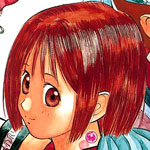 Back to Dropped projects
Kami-sama no Tsukurikata
(How to Make God)
「神さまのつくりかた」
by Takada Shinichirou [高田慎一郎]


Publisher: Square Enix
Genre: shoujo, action
Length: 14 volumes
Status: Dropped
This was a RebelliousArt project. Solaris-SVU will continue the project.

Former Joint: Solaris-SVU.

Koharu is in training to become a warrior goddess, but lately she's been restless. Being raised in a Goddess Palace means she's never seen men before, and like most 15-year-old girls, she has a keen interest in them. After finally escaping to the outside world, her superiors agree to let her stay there under supervision. But a showdown with Yusemi, the evil force that Koharu is destined to face, looms.

Description from Solaris-SVU.
Releases:
You must log in to download releases.
Volume 01 Chapter 001 (Worries Of The Future Warrior Goddess)

Volume 01 Chapter 002 (Goddess And People)

Volume 01 Chapter 003 (Suddenly)

Volume 01 Chapter 004 (Time And Space Entangled)

Volume 01 Chapter 005 (The Future Is Decided)

Volume 01 Chapter 006 (All For Nothing)

Volume 02 Chapter 007 (A Modern Day Warrior)

Volume 02 Chapter 008 (Cry Of The Wind)

Volume 02 Chapter 009 (Sudden Meeting Of 11 Seconds)

Volume 02 Chapter 010 (The Bird Who Couldn't Fly)

Volume 02 Chapter 011 (Training To Become A Bird)

Volume 02 Chapter 012 (Guide Of The Ayu Family)

[2006-01-30]

Volume 03 Chapter 013 (Those Who Seek The Road)

[2006-02-01]

Volume 03 Chapter 014 (Ripple Of The Heart)

[2006-02-14]

Volume 03 Chapter 015 (Black Pulse)

[2006-05-31]

Volume 03 Chapter 016 (The Clarity Before The Chaos)

[2007-01-29]

Volume 03 Chapter 017 (The Continuous Road To Heaven)