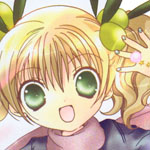 Back to Licensed projects
Kami-chama Karin
(God Karin)
「かみちゃまかりん」
by Koge Donbo [コゲどんぼ]


Publisher: Kodansha
Genre: shoujo, fantasy
Length: 7 volumes
Status: Licensed
Licensed.

From Tokyopop:
Karin is an average girl... at best. She's not good at sports and gets terrible grades. Plus, her parents are dead and her beloved cat Shi-chan just died, too. She is miserable... but everything is about to change. Because little does Karin know that her mother's ring has the power to make her a goddess!
Soon she and Kazune, a brusque but cute boy with godlike powers of his own, will have to fight to protect Karin's ring and Kazune's cousin Himeka from the evil forces of Kirio Karasuma... who has divine designs of his own.
Releases:
You must log in to download releases.
| | |
| --- | --- |
| [2004-01-03] | Volume 01 Chapter 001 |
| [2004-02-14] | Volume 01 Chapter 002 |
| [2004-03-09] | Volume 01 Chapter 003 |
| [2004-04-02] | Volume 01 Chapter 004 |
| [2004-07-01] | Volume 01 Chapter 005 |